Stopping, known as stopfen, is employed by many Classical and modern composers. Usually, stopping is accomplished with the hand. But this is not always a simple matter, especially in forte passages or in the low register. "Horns too late!" is an often heard comment from conductors, so producing a precise and direct stopped sound is required, as well as good intonation.
 The Powerstopf is the stopping mute that gives the horn player the means he or she needs to stop easily and in tune. The combination of aluminum and oak results in a direct sound that is identical to the tone color of actual hand stopping.
Available for € 159,- including packaging and shipment within Europe

PowerStopf: Stop different and blend in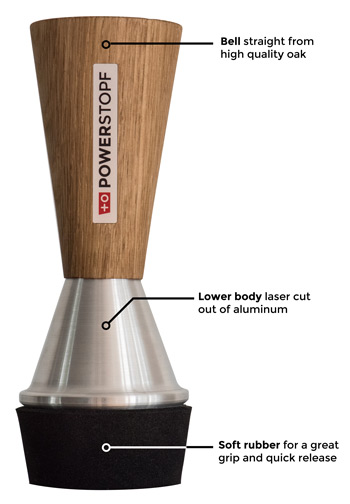 Listen
Examples played with a POWERSTOPF
Gustav Mahler – Symphony #1

Gustav Mahler -Symphony #6

Siegfried Wagner – 1 scene Horn 4

Listen
Examples played with a POWERSTOPF
Gustav Mahler – Symphony #1

Gustav Mahler -Symphony #6

Siegfried Wagner – 1 scene Horn 4

Martin Hackleman
Radovan Vladkoviç
Ignacio Garcia
Frank Demmler
Bayerische Staatsoper
American Horn Quartet
Staatskapelle Berlin
US Army Band, 'Pershings Own'
Brussels Philharmonic
German Hornsound
Raimund Zell
Frequently Asked Questions
I want to buy a PowerStopf. How do I proceed?

?
You can order your Powerstopf directly throught our shop by using the following link: Buy now
Does the Powerstopf have cord for quick changes from stopped to open playing?

?
At the back of the Powerstopf a cord is attached for quick changes; in fact, in the box there are 3 colors to choose from.
What is the shipping time of the Powerstopf?

?
We usually ship within 24 hours, and depending on your location you will have your Powerstopf within 3 days.
Do I need to stop notes using the F horn, just like I do when hand-stopping?

?
The Powerstopf can be stopped easily on the B-flat horn side with perfect intonation. You can limit use of the F-horn to the pitches where you would normally use it.
Does the Powerstopf fit in all brands of horns?

?
The Powerstopf is built a little bit wider than other mutes and provided with a 0.5 mm rubber layer on the shell. We guarantee that it will fit in any bell, or you can return it for your money back.
Why exactly do I need the stopping mute Powerstopf?

?
Stopping has always been a hard skill to learn. The task of transposing while keeping intonation steady and notes secure can be very difficult. The Powerstopf will help you with these challenges.
Does the Powerstopf transpose automatically?

?
No, you still need to transpose yourself. But playing a half-tone lower using the B-flat horn, as the Powerstopf allows, will make all the difference ­and is a great feature.
What are your company details

?
Music-Crafts
R.J.G. van Gemert
Pater Decaestraat 1,
6374 DS  Landgraaf
The Netherlands
KvK: 14075641
BTW: NL822034566B01
info@powerstopf.com
+31646203555
You are important to us. Therefore, we would love to hear what you think of our product. Use the contact form below or drop us a line at info@powerstopf.com